RUPAYAN CITY MOU SIGNING CEREMONY WITH EVERCARE HOSPITAL DHAKA.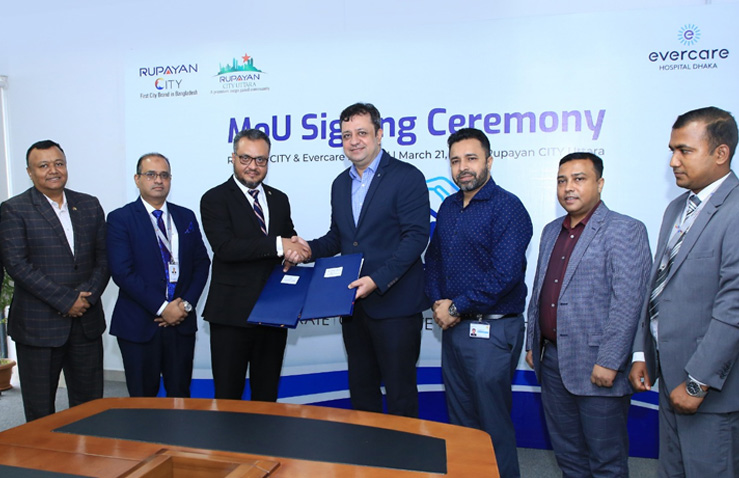 The signing of MoU between Rupayan City and Evercare Hospital was held.
A Memorandum of Understanding was signed between Rupayan City and Evercare Hospital, Bangladesh at Rupayan City's own office in Uttara on 21 March 2023.
Under this agreement, Rupayan City Uttara's customers, officers and employees, and authorized persons including senior authorities can receive special facilities from Evercare Hospital Dhaka for themselves and their family members on a priority basis. Rupayan City customers and authorized persons can avail of this facility from the designated corporate desk every Saturday to Thursday from 9:00 AM to 5:00 PM.
Rupayan City Uttara Chief Executive Officer M Mahbubur Rahman and Evercare Hospital Head of Marketing Vinay Kaul signed the agreement on behalf of their respective organizations.
On behalf of Rupayan City Uttara, HM Faridur Rahman – Sr. GM, HR & Administration, Zaidur Rashid - GM Customer Service Division, Md. Murshed Alam - GM and Head of Finance, Kazi Sarzil Hasan - DGM Marketing, and AM Abul Kashem Rony on behalf of Evercare Hospital. - DGM and Head-Corporate Relations, Md. Iftekhar Hossain Assistant Manager-Corporate Relations along with senior officials of both organizations were present at the signing ceremony.