MoU Signed between Rupayan CITY and Penthouse Living & KOHLER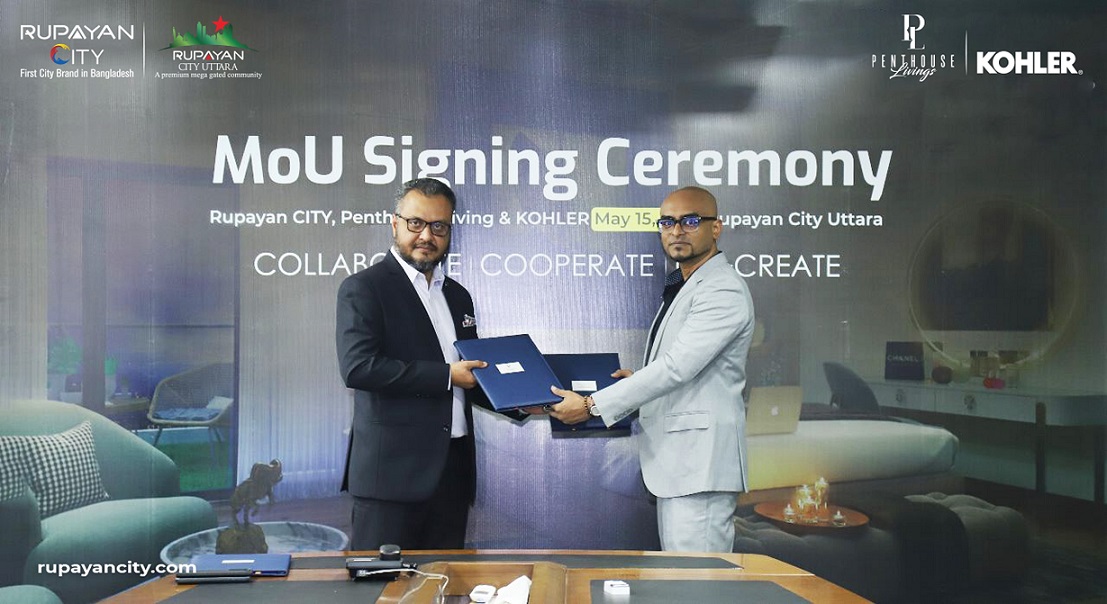 Penthouse and Kohler signed two separate MoUs with Rupayan City. The agreement was signed at Rupayan City's own office in Uttara on Monday.
Under this agreement, Rupayaan City will ensure fast service with affordable prices and a free delivery facility for the purchase of all Penthouse and Kohler brand products for customers and all concerned of Uttara.

Rupayan City Uttara Chief Executive Officer M Mahbubur Rahman and Meghna Executive Holdings, Penthouse and Director Operations Ashiq Un Nabi signed the agreement on behalf of Kohler.

On behalf of Rupayan City Uttara, Shamim Ahmed, Sr. DGM CR Loan & Registration, Kazi Sarzill Hasan-DGM-Head of Marketing, Ujjaal Ahmed-Sr. AGM-Head of Operations Marketing, Aabir Biswas-Executive Marketing.

Besides, Maidul Karim Nagib- DGM-Head of Sales and Operations- Kohler, Muhammad Anisur Rahman-DGM-Head of Operations-Penthouse, Nafeez Imtiaz Karim-Head of Marketing, Irene Sultana Shanta-Manager, Corporate Sales Meghna Executive Holdings on behalf of Penthouse and Kohler. Other senior officials were also present at the signing ceremony.